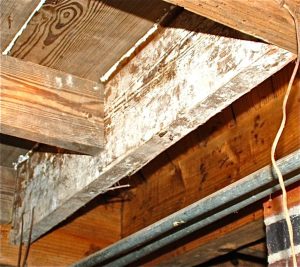 What is under your home can be dangerous to your health.  The 'Stacking Effect' is an industry term that justifies how up to fifty-six percent of the air in your crawlspace typically shows up in your living space.  Array of Solutions uses 'Infra-Red' technology.  We also use moisture meters and common sense.  Array of Solutions is able to determine moisture sources.  Organic activity cannot flourish without moisture.
Taking a physical sample of the organic activity inside the crawlspace reveals a lot. Air quality tests reveal parallels between the air of the living space.  A physical sample is derived by taking a giant swab, (similar to a Q-Tip in appearance). Array of Solutions then wipes the dis-colored surfaces in the crawl.  This is then placed in a hermetically sealed case and taken to the lab.
An Air-Quality test is performed by placing a calibrated, accredited machine inside the home.  For five minutes,  point seven five (.75) liters of air are drawn through a paper cassette.  This cassette is similar to that of an oil filter.  Pleated filtration paper is between the intake and exhaust.  Both aforementioned samples are then taken to a local, nationally accredited lab. spores are identified and counted under a microscope by a Micro-Biologist.  After reviewing the raw counts, a protocol is put in place to alleviate the presence of organic activity. Having done well over one thousand of these tests as well as being an expert in the Greenville County Court System, this phenomenon proves true time and time again.
The methods of decontamination vary greatly as does the cost.  Array of Solutions will address all sources of moisture in order to warranty all work.
In closing, what is under your home can drastically affect your health.  Most homeowners do not go under their homes.  Call Array of Solutions today @ 864-710-6413 to schedule an inspection.
Respectfully,
Douglas R. Whitehead II
Owner @ Arrayofsolutions.com