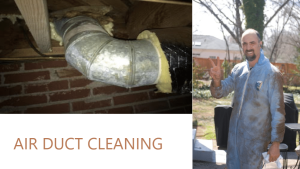 From a survey from National Air Duct Cleaners Association (NADCA), it is reported that an average 6-room house collects 40 pounds of dust, dirt, and various other allergens in its air ducts each year. That is a big problem because those little dust particles can cause health issues as dust "bunnies" contain a host of unhealthy fungi, bacteria, dirt, pollen, and mold. Also, indoor air can be 2-5 times more polluted than outdoor air as per the estimation of the EPA. Every time the contaminated air affects the house heating and cooling system as it circulates throughout. "Array of Solutions" offers professional air duct cleaning services in Greenville, Spartanburg, Simpsonville, Pickens, Greer, Easley, and surrounding Upstate SC areas to do away with these problems and improve the indoor air quality in your home or business.
As an environmental consulting company with more than 13 years of experience, Array of Solutions provides national standard air duct cleaning services. We perform a systematic cleaning of all air ducts and ventilation system components to progress your indoor air quality. This process can also improve the effectiveness of your ventilation system.
OUR PROFESSIONAL TEAM INCLUDES:
ASCS (Air System Cleaning Specialists)
CVI (Certified Ventilation Inspector)
CIE (Certified Indoor Environmentalist)
Air Duct Cleaning Steps – How we clean Air Ducts!
STEP 1: EQUIPMENT
STEP 2: SKILLED TECHNICIANS
STEP 3: PROTECTED AND COMPLETE SETUP
STEP 4: HARMFUL AIR
STEP 5: CLEANING WITH HAND
STEP 6: AIR DUCTS SCRUBBING
STEP 7: TRUNKS AND PLENUMS
STEP 8: THE HVAC UNIT
STEP 9: A WRITTEN POST REPORT