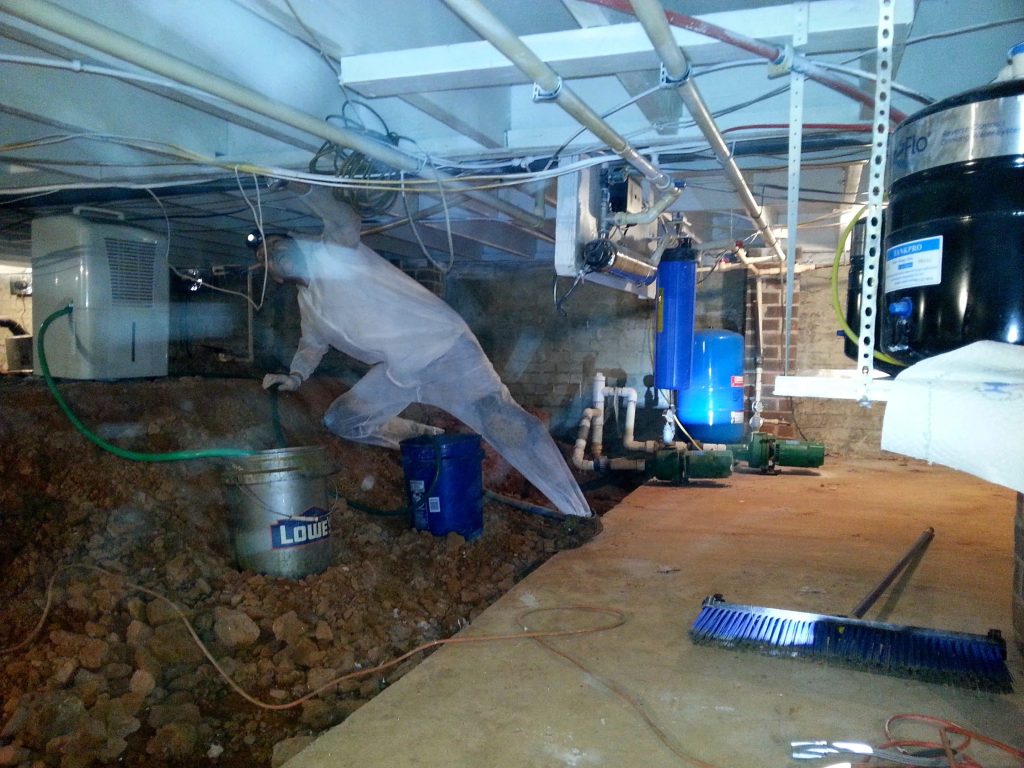 Crawl Space Encapsulation | Greenville SC and Surrounding Areas
In Greenville, Sc and surrounding areas people most frequently need encapsulation of their household crawl space. Crawl space encapsulation is the process in which it undergoes the cleaning and sealing process.  This is the area below the home that gets divided from the living space. Encapsulation is mainly a sealing process that includes crawl space cleaning and repair. You will get repair it by removal of mold, moisture, allergens, dust particles, and more. After crawl space cleaning and removal of all these unnecessary things, we get them encapsulated by the specialist. When it is professionally completed, this prevents air passage from the crawl space into the living space.
Crawl spaces are dirty, dark, and wet. This creates an ideal environment for mold, insects, and rodents. H.V.A.C. Systems commonly in the crawl space are adversely affected. "Stacking Effect" is a term that conveys that 50% or more of the air in your living space is the same as that in your crawl space. In short, the crawl space conditions drastically impact the air quality in your home. Advanced implementation of crawl space solutions ( encapsulation, repair, insulation, waterproofing, mold removal, water removal, cleaning, dehumidification, etc) will improve the indoor air quality more than any other effort.
Benefits from Crawl Space Encapsulation include but are not limited to:
– Sealing all crawl space vents
– Sealing the earthen floor with a wall-to-wall vapor barrier
– Overlapping vapor barrier and sealing all seams
– Waterproofing foundation walls as well as band joists
– Immediate improvement of indoor air quality
– Increase in energy efficiency / r-rating
– Saving heating and cooling costs
– Increase in H.V.A.C. efficiency and lifespan
Although most homeowners are not able to take the aforementioned steps, consulting with Array of Solutions will help. We can quickly and accurately offer efficient solutions to your crawl space needs. We do complete encapsulation addressing two basic issues: Insulating and waterproofing.
Crawl Space Insulation and Waterproofing
Crawl Space insulation serves an important function. Insulation helps to keep up the energy efficiency of the home and saves money. Sealing the space from the outdoors and living space dramatically reduces energy consumption.
There are two types of crawl spaces: vented and encapsulated. Either type requires sealing the crawl space thermal air envelope from the living space.
1. Ventilated crawl spaces without a thorough vapor barrier recipe for mold, moisture, insects, and rodents.
2. Encapsulated crawl spaces require the insulation of the foundation walls. It also requires less sub-floor fiberglass insulation, and ducting insulation, and is ideal when executed with a dehumidification system.
To drop the problems of moisture, crawl space waterproofing is essential. This quickly reduces the risk of mold, insects, and rodent infestation. Waterproofing may also include perimeter drains, dehumidifiers, wall matting, and occasionally sump pumps.
SERVICE AREAS
Crawl Space Specialist company: Array of Solutions offers all the services relating to crawl space in Greenville SC and its surrounding areas.
Greenville SC
Spartanburg SC
Travelers Rest SC
Greer SC 
Clemson SC
Easley SC
Anderson SC
Pickens SC
Taylors SC
Simpsonville SC
Travelers Rest SC
And Other Surrounding Areas
Consult Greenville, SC Crawl Space Specialist: "Array of Solutions" for the Best Result.
"Array of Solutions" is the longest-standing crawl space contractor in Upstate, SC. We are a local, family-owned, and operated company in Greenville, SC. As experienced professionals, we have proficiency, efficiency, and price points that are unparalleled in South Carolina. With over twenty years of experience, we have the most organic, efficient, and affordable methods to help meet your crawl space and air quality needs.
Crawl space contractor searches will lead you to overpriced corporations that charge more than double what Array of Solutions will.
How to Insulate a crawl space with a dirt floor?, call "Array of Solutions" today!