Air Quality Testing in Greenville SC & Surroundings
LET'S CLEAR THE AIR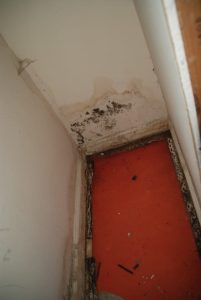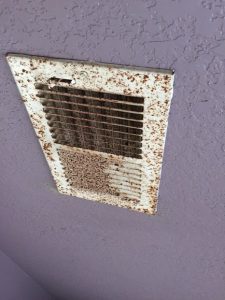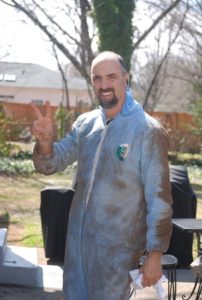 According to the National Air Duct Cleaners Association (NADCA), the average six-room house collects 40 pounds of dirt, dust, and allergens in its air ducts each year. That's a big problem, considering that 40,000 dust mites can thrive in only one ounce of dust. Those little dust "bunnies" contain a host of unhealthy bacteria, fungi, and mold. The EPA estimates indoor air can be two to five times more polluted than outdoor air. Even worse, the contaminated air circulates throughout your house every time the heating or cooling system kicks on. Array of  Solutions is a 15+ years old environmental consultant which offers professional air quality testing in Greenville and it's surrounding areas of SC.
INDOOR AIR QUALITY TEST AND IMPROVED ENERGY EFFICIENCY  
Your wallet takes a hit as well. The build-up of dirt and debris prevents the air from flowing freely throughout the ventilation system. That means it works harder and costs more to run. Over time, the problem only gets worse. Clear the air in your home with air duct cleaning and air vent.
It's also important to realize that many companies limit ventilation system cleaning to the air ducts, Not Array of Solutions. We clean your entire ventilation system, including the HVAC unit, blower, evaporator coil, and accessible components, as well as the individual air ducts, from the vent covers to the main trunk line. We also remove the vent covers, clean them, and then put them back in place. From duct cleaning to vent cleaning, we clean every part of your ventilation system.
DRYER FIRE PREVENTION IN YOUR HOME
In addition to air duct cleaning, our certified technicians also clean dryer vents. Having your dryer vents professionally cleaned regularly not only saves you money in energy efficiency, but it can also help prevent a dryer fire in your home.
Watch For the Following Signs That an Air Duct Cleaning is Overdue:
Dirty supply and return vent covers
Dark filtration lines on the walls, ceiling, or carpet that surround the vents
Excessive dust in the home
Variance in temperature or air flow throughout the house
An increase in the energy needed to run the HVAC system at desired settings
This may indicate that dirt and debris are blocking coils and/or ductwork, restricting flow and spiking utility bills
New furnace or ductwork
A recent remodel/construction project
Water damage or flooding that occurred in the ductwork could cause sediment build-up in the system
When it comes to air duct cleaning, Array of Solutions never cuts corners. We don't take what we do for granted. And we know that a cleaner, healthier home starts in your air ducts.
We deal with all types of air quality testing like:
Residential air quality testing
Commercial air quality testing
Site inspection
Our Combined Services with Air Quality Test
Save money while order below package services:-
Mold Testing + Indoor Air Quality Test
Mold Inspection + Air Quality Testing
Mold Removal + Air Quality Test
Crawl Space Encapsulation + Air Quality test
Basement Waterproofing + Indoor Air Quality Check
Service Areas – Air Quality Testing
Greenville, SC
Spartanburg, SC
Greer, SC
Pickens, SC
Travelers Rest, SC
Taylors, SC
Anderson, SC
Clemson, SC
Easley, SC
and other areas
"Customer Feedback on Air Quality Test Services"
Fast And Informative

Doug completed an air quality test and a consultation in our home. He was friendly, knowledgeable and fast. I was pleased with his work and would recommend him to anyone who is looking for mold solutions.
Air Quality

Doug was very helpful in answering questions about the air quality in our home. He gave a lot of information after questioning me about my concerns. He provided some advice on things to check before having him to come out to look at our issues. Appreciate his knowledge and the help he provided.
Specialist In Mold & Air Test. Great Job!

My son purchased a house that had mold in it…we called array of solutions and Douglas came out to the home and did all necessary mold tests and air tests. He gave us a few solutions to fix the mold issues. All work done was professionally performed and done in a timely manner. The second time a friend needed mold tested and Douglas came the very next day and rectified the mold issues and took the time to explain the situation and told us what to do to prevent any reoccurring problems..
I highly recommended Douglas and will call him again if I have any mold, or fungus issues.
Fast Help- Air Quality Test & Mold Remediation!

We have a baby, so we were very concerned about the air quality in our house when we started having a musty smell near the baby's room. Doug sensed our concern and took the time to come out on a Saturday evening to take an air sample. We were also concerned about harsh chemicals used to remediate mold, and Doug was very open about the products he uses, unlike some companies we had spoken with, and about their safety. Thankfully, the lab results said the air quality was fine! We greatly appreciate Doug and his quick response!
Array of Solutions offers prompt, inexpensive mold testing within twenty four hours of your inquiry.   We offer a complete report from an accredited lab with same day results available. You will also receive my professional photos with expert opinion as to pending issues as they relate to your home or business.
24 hour report turnaround
Over 20 years of experience


Array of Solutions
5300 Old Buncombe Road,
Greenville, SC 29609
In need of mold removal? Contact us today.