You are here: Home
Mold thrives in damp environments and is present everywhere. Mold can cause both a risk to your health as well as cause structural damage to your home. If your home or property has a musty smell or otherwise suspect you may have mold, Array of Solutions 864-710-6413 is ready to help when you need us.
You will be able to reach a member of our team in North and South Carolina at any time by calling the number listed above, or submit a message using the Contact Form.
In order to successfully remediate mold, professional technicians should be hired. The mold experts at Array of Solutions are certified and courteous.
Array of Solutions will thoroughly inspect all the mold damage existing in your home. This assessment, which may include consulting with a professional hygienist, is performed to evaluate the correct remediation process. We will then complete the work and use clearance testing as needed to ensure that the remediation was effective and no further steps are necessary.
Mold Removal & Remediation »
According to the National Air Duct Cleaners Association (NADCA), the average six-room house collects 40 pounds of dirt, dust and allergens in its air ducts each year. That's a big problem, considering that 40,000 dust mites can thrive in only one ounce of dust. Those little dust "bunnies" contain a host of unhealthy bacteria, fungi and mold. The EPA estimates indoor air can be two to five times more polluted than outdoor air. Even worse, the contaminated air circulates throughout your house every time the heating or cooling system kicks on.
IMPROVED ENERGY EFFICIENCY AND INDOOR AIR QUALITY
Your wallet takes a hit as well. The build-up of dirt and debris prevents the air from flowing freely throughout the ventilation system. That means it works harder and costs more to operate. Over time, the problem only gets worse. Clear the air in your home with air duct cleaning and air vent.
Air Quality Testing & Services »
When Array of Solutions gets the call about water removal services, they need help—and you need a reliable partner to get the job done. Based on prior experience, you know that water removal and cleanup requires a certain level of expertise, and it demands a quick response followed by immediate action. At Array of Solutions, we've been working with insurance adjusters and clients for years, and we understand that your reputation is on the line. We do everything possible to minimize the stress for you—and for your client.
For starters, call 864-710-6413 right away. It doesn't matter if damage is the result of a broken pipe, a failed sump pump or a sewer backup, an Arra of Solutions certified restoration specialist will respond within 15 minutes of your call. Our primary goal at that time is to review the scope of the loss and to mitigate the damage. We will also advise the homeowner about what to do until our crew arrives.
Our Water Damage Services »
Frequently Asked Questions
Mold inside your home? NOW WHAT? As the owner 'Arrayofsolutions.com', my phone rings for one reason.  The scenario usually sounds like this; "Been on antibiotics for mos.,  missed 5 weeks of school and cannot seem to shake this cough!"            "While on vacation, my health was fine, but as soon as […]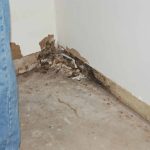 When my phone rings, more times than not, it is a Tenant that has valid suspicions of Black Mold, or Air Quality issues.  If you are a Tennant, there are many rights you may have that you are unaware of.  If you are a Landlord, you have many obligations to your Tennant based on local […]
The following is the third article addressing Mold Illness, signs and symptoms, how to detect and respond.  My last article left off with the fact that the most common symptom of Mold Exposure is related to respiratory distress.  Additionally, allergic type symptoms comprise the majority of those affected.  However, it does not end there. Tremors, […]